WORKSHOPS
We created a versatile STUDIO SPACE to meet, exchange knowledge and learn new skills in a creative and relaxed environment.
A place where there is room for socializing and experiences. Our atelier is aimed at creating slower and more consciously and inspiring each other.
For everyone who wants to immerse themselves in a new skill or interest.
check out our ongoing and upcoming projects and subscribe to our newsletter to keep up te date about our workshops, lectures and events.
WORKSHOP 'NEW KINTSUGI'
Kintsugi is an old Japanese art of imperfect ceramics repairing with gold. Kintsugi is a gold joinery method that dates back to the 15th century.  A way for damaged pottery to be artfully repaired by skilled potters, the cracks and breaks are filled with a gold alloy. For those familiar with the term 'wabi-sabi', most likely are also familiar with kintsugi – the artistic manifestation of the japanese wabi sabi philosophy celebrating imperfection, incompleteness, and impermanence.
New Kintsugi is a modern approach of glueing broken porcelain that is based on the original craftmanship. With New Kintsugi we combine this lovely old technique with new technology.
By messy mending you emphasise the marks and scars of a product giving it a new perspective, beauty and longevity.
READ MORE
in this workshop participants will learn about the history and origins of Kintsugi and repair a broken ceramic vessel returning them to functional pieces or create something new from small broken pieces of ceramics (art objects, handles, pendants etc.)
Participants who choose to repair a ceramic vessel should bring their own broken object. Shards and broken ceramic pieces are provided by us.
You will be able to purchase the New Kintsugi Repair Kit for €29.- (instead of €32.-) during the workshop.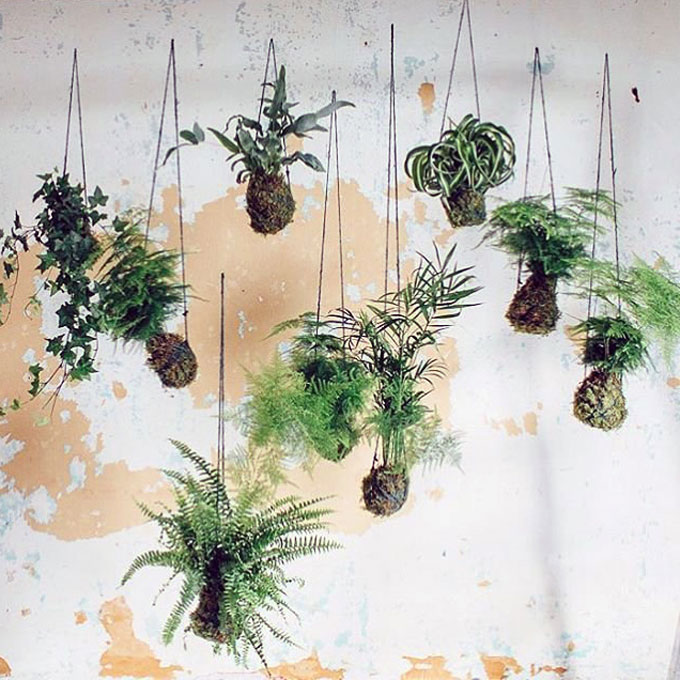 WORKSHOP 'KOKEDAMA'
Kokedama is a style of Japanese bonsai, where a plant's root system is simply wrapped in moss and bound with string, transforming it into a unique sculptural art form that can elevate your home. 'Koke' means moss and 'dama' means ball.
Kokedama has come a long way since its traditional bonsai, including string gardens which allow plants to defy gravity and make a strong and peaceful statement.
They're a great way to bring diversity to your houseplants and are easy to care for.
READ MORE
In this workshop, participants will make their own kokedama to take home, learn about the history and origins of kokedama, plant and soil mixtures, wrapping options, moss types and aftercare.
Are you looking for a space to organise your own workshop, lecture, event, product launches or pop-up showroom?
CONTACT US…we can assist you with the total project or you can just rent the space.