Discover the WILDE+SPIETH | Egon Eiermann collection at STUDIO HELDER -new and exclusive in Belgium-
Whether for your home, office, restaurant or large-scale seating in public buildings, we are happy to advise you on your important purchase.
For bigger projects, tailor-made solutions can be developed in close cooperation with you.
Wilde+Spieth not only means the highest quality, but also flexibility in terms of colors, materials and finishes. 
Feel free to contact us for more information or a direct exchange regarding sales and/or the planning of one of your projects.
WILDE+SPIETH | Egon Eiermann
The story of WILDE+SPIETH dates back to 1831. Back then, carpentry made by local craftsmen was the core of their business. Long-lasting quality has been the focus point since the beginning. That is how the collaboration with famous German architect Egon Eiermann came to be in the late 1940s. 
Egon Eiermann designed iconic chairs and tables in close collaboration with WILDE+SPIETH, using plywood and steel as materials. Through the strong connection to architectural projects, his chairs are characterized by a clear design language, high functionality and timeless aesthetics.
WILDE+SPIETH has also been developing chairs for musicians for decades. Some of the worlds most renowned orchestras, such as the Elbphilharmonie Orchestra in Hamburg, have chosen their products. Today, WILDE+SPIETH sees itself as a forward-looking company with a focus on sustainability, outstanding service and the highest quality standards.
They manufacture their products with attention to detail and sense of materiality
– modern classics beloved by architects, stylists, designers and design lovers worldwide.
learn more about specifications and variations in our webshop
or contact us by mail:
LEARN MORE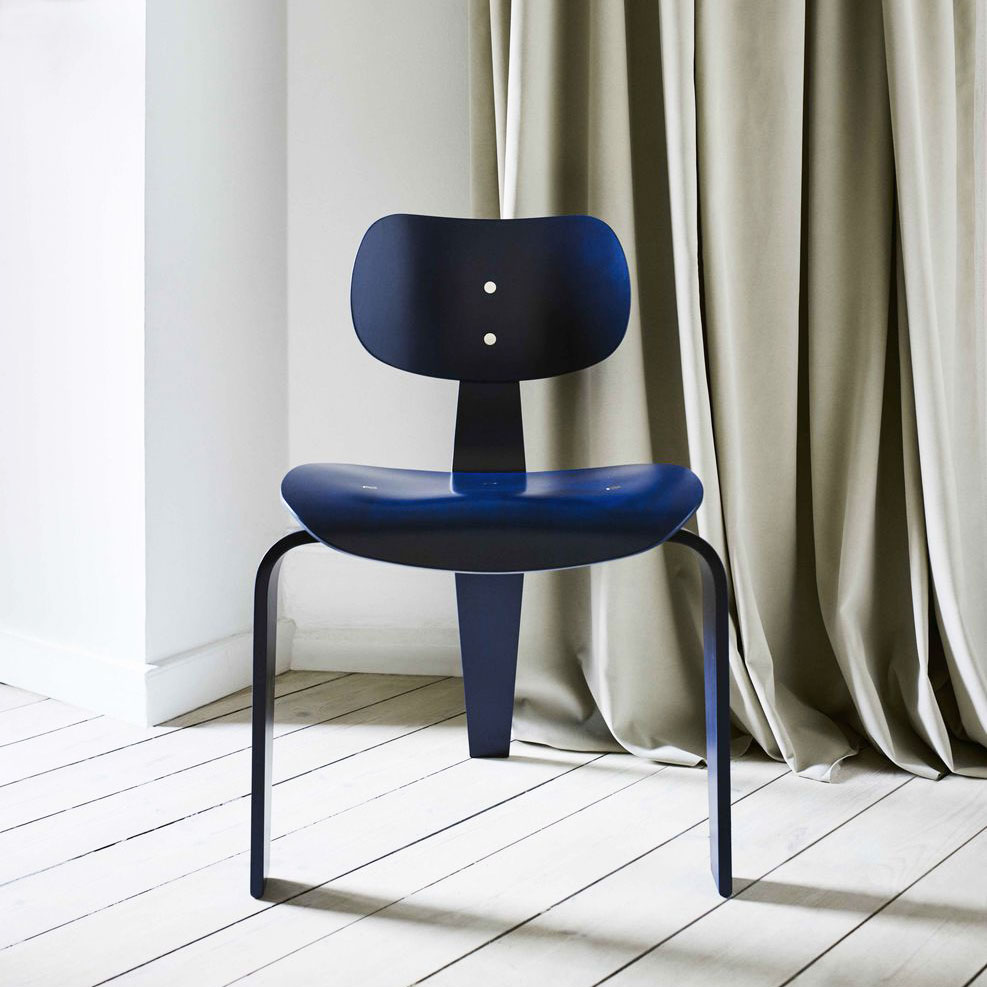 3-Legged Chair (SE42)
A chair whose frame, seat and back consist completely of moulded wood was to be the first production furniture item jointly developed by Egon Eiermann and Wilde + Spieth. The three-legged wooden chair which stands out from the masses thanks to its distinctive lines and exclusive workmanship. 
Design: Egon Eiermann, 1949 
Multipurpose Chair (SE68)
A minimalistic, but immediately recognizable chair.
The combination of a simple steel frame with the wooden backrest and seat make for a chair that is both stylish and very comfortable.
Egon Eiermann attempted to give his furniture a 'human dimension' and succeeds in this mission completely with the organic shape of this design.
Until today Eiermann's SE 68 is unique in its minimalist design and its seating comfort. A tubular steel frame in conjunction with an "organically" shaped seat and backrest made of moulded wood – the SE 68 was the earliest model in Germany in this combination of materials. To give furniture a "human dimension", that was Egon Eiermann's goal – and anyone who has ever sat on his SE 68 knows then at the latest that hardly anyone lived up to this aim as much as the self-confessed perfectionist himself.
Design: Egon Eiermann, 1951
Stackable Chair (SE68SU)
The stackable version of the Multipurpose Chair adds the convenience of being easy to store, without losing any of it's comfort and look.
The stacking chair among the multipurpose chairs. Its distinctive shape, the undeniable effect in the room and of course the typical Eiermann seating comfort make the stackable version of the SE 68 one of the greatest in terms of hall seating. Discreet yet with an incredible presence, SE 68 SU develops its different character in all kinds of rooms just as if it were individually designed and developed for just this room, this hall, this building. Regardless of the size of the room, the number of chairs, the type of deployment and use, its colour and design, in every room it seems to have just the impact and expressiveness that transforms the overall composition into this one perfect unity.
Design: Egon Eiermann, 1951
QUALITY | Focusing on the essentials
WILDE+SPIETH do not take quality for granted because quality is the sum of several equally important steps. A chair is not just a chair, but an object that must adhere to human-scale values such as ergonomic requirements, tactile surfaces, natural materials and items that must keep an aligned balance between function and aesthetics. This is what makes quality design last a lifetime and can pass through generations. All this is what makes a true classic. Spare parts ensure that our classics can be repaired and do not have to be disposed of.
Sustainability
Other core values include local manufacturing and sustainability. Therefore, the wood that is used at WILDE+SPIETH all originates from Germany and is processed at their supplier just outside the German town Brakel. And for every tree used, a new tree is planted, because WILDE+SPIETH feel that the world and the environment that surrounds us is a common responsibility.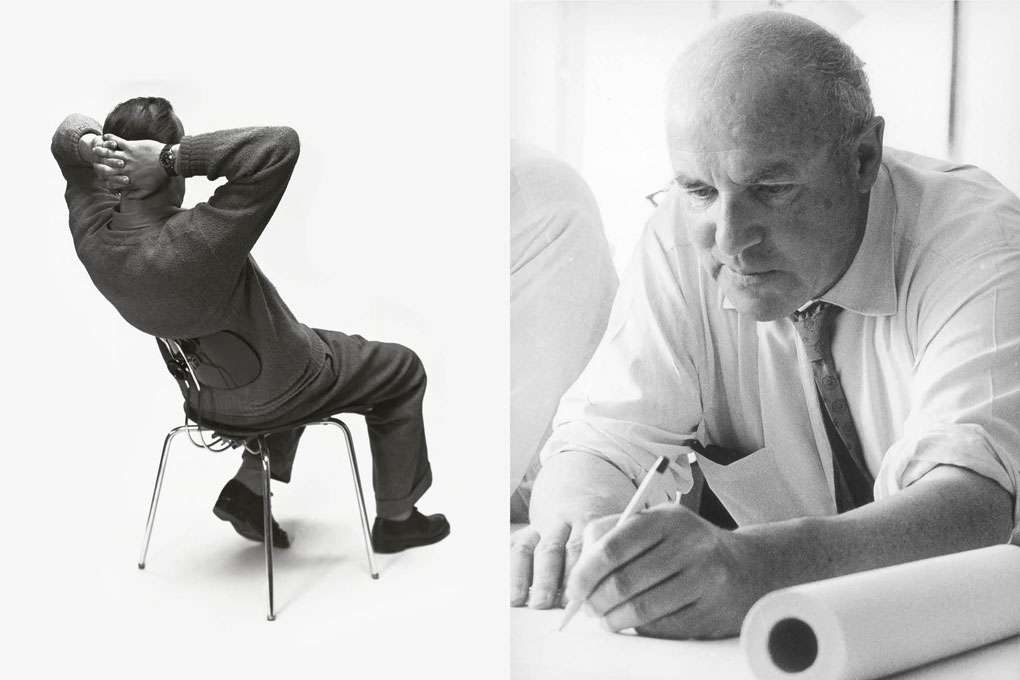 EGON EIERMANN The Architect
Egon Eiermann consistently represented the ideas of functionalism, he understood the interplay of objectivity and lightness,
and thus shaped the image of the young Federal Republic of Germany over a period of more than two decades.
It is particularly thanks to his work as a designer that Germany was able to successfully build on its tradition of the Werkbund and the Bauhaus internationally.
His chairs are now classics and available under the Wilde + Spieth brand.
When the German architect and designer Egon Eiermann (1904-1970) first made his name internationally at the Brussels World Exhibition with eight glass and steel pavilions created in collaboration with the Bauhaus architect Sep Ruf, large parts of Europe were still in ruins after the horrors of World War II. At the time, he was already one of the most trend-setting German architects; before and during as well as after the war, he contributed to the construction of buildings of great importance for his country and his age. Eiermann graduated from the Technische Hochschule in Berlin-Charlottenburg in 1927, and from an early stage, he was fascinated by the ideas of the modern masters and their dogmatic attitudes to architecture – including Le Corbusier, Walter Gropius, and Mies van der Rohe. But he differed with them on several issues, including the use of concrete. Thus, he came to represent the second generation of modern German architecture with its own style, based on a non-dogmatic, humanist view of architecture and its purpose.
Eiermann was unsentimental, a rationalist and a functionalist at the same time, and unlike many architects of the day, he did not intend his buildings to remain standing forever. They should give way to others. He did not want his buildings to remain as eternal monuments to a certain era of architecture. According to him, one should be able to tear them down and reuse the materials. He saw architecture as an expression of the time in which we live. Something that should be exploited fully, as long as it's there. But also something that, like all life, will perish sooner or later.
The German pavilion at the World Exhibition, Brussels, Belgium, 1958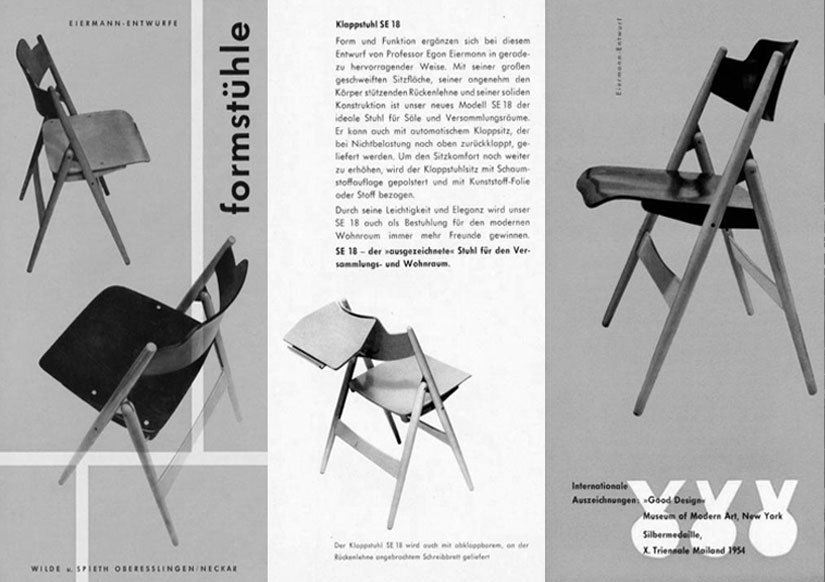 Brochure from Wilde + Spieth, 1954
Even so, his pure modernist architecture had an enormous impact on post-war German architecture. He became especially wellknown for the building of the new Gedächtnis- Kirche in Berlin, which became a symbol of West Berlin in the post-war years. The original church had been bombed so that only a shell of the building remained (and was thus nicknamed The Hollow Tooth), and during the years 1957-1963, Eiermann erected a tight octagonal tower, a hexagonal church interior, and adjacent square buildings, later nicknamed The Lipstick Box and The Powder Box by Berliners – a popular destination for Western tourists. Eiermann's other important buildings include the Ciba AG factory in Wehr/Baden (1958), the Bonn parliament building (constructed 1965-1969), and the German embassy in Washington DC (constructed 1962-1964, and the only Eiermann building outside Germany). Some buildings were even erected after his death, including the IBM headquarters in Stuttgart, and the Olivetti administration building in Frankfurt am Main (constructed in 1972).
A common feature of his rich architectural work was a striking lightness, and open, inviting constructions. All of his buildings were constructed with an approach and a sensitivity to materials; he stretched them to their limits, while keeping a balance between a tight exterior and a beautiful, harmonic interior where colours and materials such as steel, glass and wood were all equally important. Elements that recur in his furniture design.
In the following years, Egon Eiermann designed more iconic chairs and tables in close collaboration with Wilde + Spieth, using plywood and steel as materials. Posterity has embraced these as modern classics, cherished by all kinds of architects, designers, stylists, and design lovers all over the world for the unique meeting between stringent and organic forms, high quality and beautiful colours. An obvious element of Eiermann's view on design was the emphasis on both function and ergonomics, and he was uncompromising, when it came to finding the perfect form. Another excellent example of this is the working table Eiermann 1, consisting of a graphic, light but robust steel frame, and a tabletop that can be changed as required. This table, he drew for his architecture students at the Technische Hochschule. In 1965, they drew the table Eiermann 2 for him; with its more symmetrical frame, it was better used as a dining or meeting table.
Southern German broadcast with orchestra chairs from Wilde + Spieth
Egon Eiermann, Baden-Baden, Germany, in front of his house, 1968
The Designer
Egon Eiermann was a perfectionist to the smallest detail, and like several of his contemporary designers, not least the Dane Arne Jacobsen and the American married couple Charles and Ray Eames, he also created the interior for several of the buildings he constructed. The difference was that unlike the others, he did not become internationally recognised for his furniture until many years after his death. But then, he was known for being a work-horse without comparison, and a perfectionist to the degree that some of his projects were started all over again if they weren't good enough. Maybe this contributed to his death in 1970 in Baden Baden, where he died from heart failure at the age of 65 – and was buried in a coffin in pure style, designed by himself.
Eiermann's legacy
In 1947, Egon Eiermann became a Professor of Architecture at the Technische Hochschule in Karlsruhe, and with his charismatic personality he managed to inspire thousands of students who flocked to his renowned lectures from near and far to learn more about his at the same time warm and rational view of architecture and design. Today, there is no doubt that Egon Eiermann's posthumous reputation as an architect as well as designer is the story of a man who uncompromisingly strived for the best, every time he started on a new project, be it design or architecture. And even if some of his buildings have perished, his iconic furniture has been produced in such a good quality that they will be passed on through generations. 
Tingbjerg Library and Culture House
The straight forward interior design is defined by modern materials like concrete, glass and wood – the perfect environment for the SE 68 Multi Purpose Chair.
Location: Copenhagen, Denmark
Architects/Designer: Cobe
Photographer: Helene Hoyer Mikkelsen
Cronos
Brussels, Belgium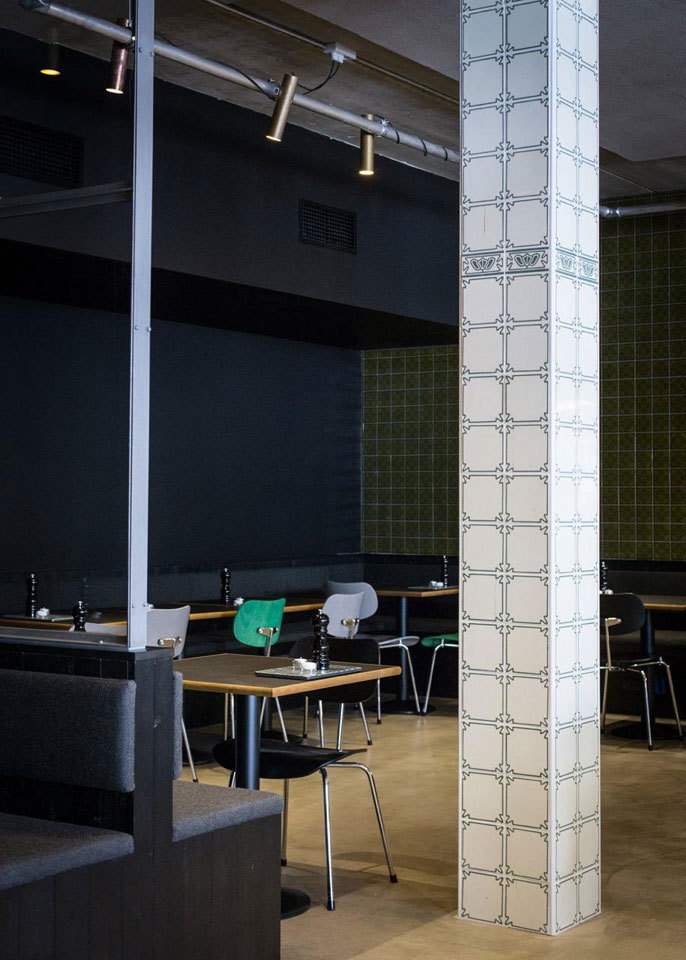 Meyers Spisehus
Lyngby, Denmark